During our visit to Portland and its 11th The One Show (read our post here) by our long term friends and BRUMMM partners of See See Motorcycles we had the pleasure to visit two other partners, the Dehen Knitting Co. and Langlitz Leathers (post will come soon).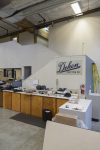 Dehen Knitting Co. and its 'Dehen 1920′ brand is one of our first partners we cooperated in a special collaboration product, the BRUMMM M.C. Club Jacket (see here) which is based on the Flyer's Club Jacket made of heavy 24 ounces (about 680 grams) green Loden-coloured wool and embroidered on frontside with 'BRUMMM M.C.' This first try, bringing a Dehen product to our european online shop worked quit good for both of us – the small numbers were sold entirely after short time.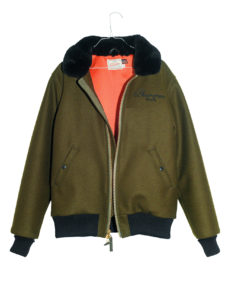 Dehen's Peter Lee and Jim Artaiz kindly took time to show us their production facilities and spoke about their long tradition in knitting business. Founded in 1920 by german immigrant family they began knitting varsity and collegiate sweaters for student athletes. In the 30's Dehen started supplying local motorcycle clubs riding sweaters and from the 1950s through the 1980s, Dehen Knitting, also known as Dehen Jackets, slowly built a national reputation for sourcing high school letter jackets, sweaters and cheer uniforms.
In 2010 the 'Dehen 1920' brand was created, transferring traditional products and its manufacturing to fashion with lifestyle orientated designs. This opened new global markets for the family business, and as Peter Lee let us know nice apparel will be launched soon and steadily in future .
Dehen is still producing most of their heavyweight products on about 50 year old mechanical machines imported back in the days of german manufacturers, which knitting patterns are controlled by pasteboard-cards. These machines with their intricate patterns and wool-consuming quality and even more the experience of all long term 35 employees are significant for their products: long lasting quality apparel made in small family business by taking social response.
We're happy to have partners like Dehen and we are looking forward to the next level of our cooperation!

Photos and Words by Hermann Köpf