Years ago when i was surfing around i found this photo of a Ducati powered flat track bike. I was hooked by its low and lightweight looking shape, the typically 60ies scalop pained gas tank and of course that a Ducati flat track bike seemed to be exotic – i wanted to know more about its history.
I found out that the frame was built by Ken Swanson, originally from California  moved up Clyde, NY and ran his shop south in Geneva, NY, just across the Paradise Speedway track where he started production around february 1966. "He was a Ducati-man, dealer and hell of a competitive racer" his former employee Rick Berg stated as also "Al Golly did most of the welding and toching. After a bad crash in Ohio 1967 when Ken lost his back wheel going into turn 3 1/2 mile, Ken came back with an aluminum shoulder and ball. After that he did not race anymore". The main tale on the internet about these frames for Ducati engines is, that only about 10-12 pieces were built before he had to close his shop in the 70ies.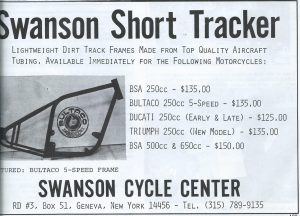 Again a couple of years later i put a search ad on vft.org and few days later a guy from Salina, KS luckily offered me a rigid frame that seemed to be a real Swanson one, which was lying in his garage around for years. Some emails and photos later the frame was shipped and i picked it up at the german toll authority and so the work (and real search) began.
A newspaper advertisment from back in the days describes "lightweight dirt track frames from top quality aircraft tubing, available immediately …" And indeed, there are frames around which were designed for BSA, Bultaco, Ducati and Triumph enignes. Some had single downtube but most had two-downtubes for engine mount. Prices nowadays seem spectacular cheap – starting from $125 to $150 for the heavier BSA engines.
On Facebook Bill Millburn wrote in a comment on one of my photos: "First Swanson frames appear at the Utica Memorial Stadium indoor short track Feb 20, 1966. Marion Pyron had one with a Ducati H&H engine. Tom and Norm Robinson were on Bultaco 4 speed Swansons. The frames weighed 14 pounds. Available for the 250 BSA, 250 Ducati, 250 Bultaco 4 speed and 250 Bultaco 5 speed, 500 and 650 BSA twins, There was also a Norton drag frame and a "universal" frame. I believe Tim Hurley had one for the 250 Parilla which looked very similar to the Ducati frame. The Ducati and 250 Bultaco 5 speed frames were single down tube. Neil Keen, Dick Mann, and Billy O'Brien were major players in 1967 and 8 with Swanson Bultacos but then the tig welded nickel plated Sonicweld frames appeared and the world changed. All of the Swanson frames that I have pictures of feature a one piece backbone that starts at the top of the steering head, runs back, bends at about 90 degrees and runs down to a cross piece connecting the lower rails. On the single downtube frames there is also a brace running back from the lower part of the steering head horizontally that gets joined to the backbone before the 90 degree bend."
Finally I found a 250cc engine of a spanish Mototrans 'DeLuxe' model, which is basically the same as Mototrans built them as licenced Ducati engine. Some details are different to the italian orignial, for example the 69mm bore and 66mm stroke instead of Ducati's 74mm/57,8mm, but most of the rest is same. As my frame is a two tube model (mostprobably designed for Bultaco 4 speed) I had to widen the bottom tubes to fit in engine case and welding new motor mounts, but that worked fine. While rebuilding I installed new bearings, hotter 350cc camshaft, high compression piston by Woessner, electronic iginition of Sachse and a stronger oilpump made by german Ducati Guru Ottmar Unmüssig. It's running on LiFe-battery only, generator is gone, 32mm Dell'Orto carb is fitted, 19" Shinko tyres on vintage alloy Sun rims, 35mm Telesco forks,  BSA Victor alloy gas tank and a short Megaphone – that's it. No break as it used to be in the 1960ies. Runs great, weights almost nothing. And it is way too small for my size, haha.
And this is how it feels to ride on a 1/2 mile track with it:

This article was in SIDEBURN #43, so get your copy here
Check the gallery with photos i found on the internet, please forgive if no credits are shown and let me know your comments or corrections. This is a hommage on Ken Swanson and his work. If you have photos of other Swanson framed motorcycles i'd be happy to share them.
Words by Hermann Köpf