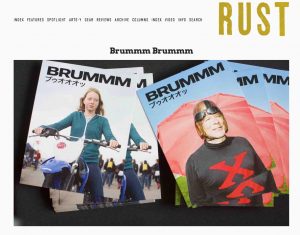 When BRUMMM joined this years One Show in Portland, we met many new friends and supporters – like Mike Blanchard from California, who made his way to Oregon and kindly put a 20$ note for a copy of BRUMMM under the staple of samples at our booth as I was strollin' around somewhere at the venue. The other day he came by and we had a nice chat about magazines, italian bikes, analog cameras and much more. We interviewed each other and see here the output Mike put on rustmag.com:
https://www.rustmag.com/new-blog-1/2020/3/18/brummm-brummm
And this is what Mr. Blanchard writes about his classy magazine: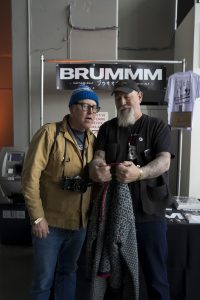 We started Rust Magazine in 2002 as a print magazine. It died off for a while and came back reincarnated as an online magazine at Rustmag.com in 2017. While we miss the feel of paper in our hands, being online has allowed us to be more international as well as being able to feature things like video.
Among other things the name Rust evokes the Japanese concept of Wabi-sabi. As we conceptualize it, an appreciation of the beauty of people and things in their transient and imperfect state with their history intact. Rust covers a broad variety of subjects; men and women of grit and creativity, motorcycles and cars and racing, old cameras, craftsmanship, history, books, gear, tools, art, etc etc. In short what generally interests us.
We believe that most people (especially gearheads) are into a broad variety of subjects and this gives us scope as a magazine. And we have been able to feature strong photography, writing and design in Rust. It is tremendously gratifying to be able to bring what we see to our readers. In Rust we trust!
Thanks Mike, looking forward to seeing you next year again!
(Photo: Mike Blanchard (left) and bike builder Neil Morto Olson (@morto279) checking his wife's hand made cardigan)